Goku has fought some amazing battles over the years, which isn't surprising as he is the main hero of the Dragon Ball universe.
However, that doesn't mean that he has been able to beat every character that he has clashed with.
These six Dragon Ball characters are prime examples of the fighters Goku has never been able to overcome in a fight as of yet.
Now this list doesn't include the fighters Goku hasn't faced, it only includes the fighters Goku has fought and lost, but has never beaten, even later on.
8. Mr. Popo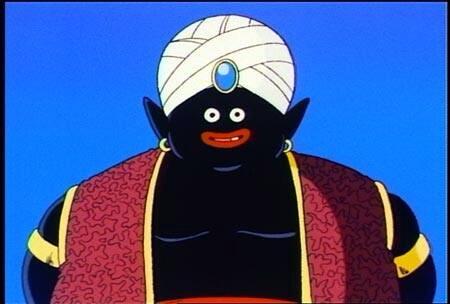 So technically Goku has never beaten Mr. Popo and yes, Goku has fought him before and Popo ate his Kamehameha Wave. Goku's power is well beyond Popo's now but he still hasn't beaten him in a fight.
7. Android 19
Now I know that technically Goku would have beaten Android 19 had he not suffered the heart attack, however, the battle did start and Goku did lose. In addition, Vegeta later destroyed the Android and that meant Goku could never face him again.
6. Tien
I know this might sound strange but Goku and Tien haven't fought since the World Martial Arts Tournament all those years ago. At the time Tien only managed to just win and as a result, never lose to Goku.
5. Vegeta
Vegeta has fought against Goku a number of times over the years and despite Goku surpassing him in power, Vegeta has always finished on top at the end of every fight.
4. Cell
Cell has been dead for quite some time now but back in the Cell games it was Goku who had the first fight with him. However, Goku wasn't strong enough and quit the fight so that his son could save the earth.
3. Whis
Goku hasn't even come close to scratching Whis, the angel even fought him off with one finger against both Goku and Vegeta, it will be a while before Goku ever beats Whis.
2. Beerus
The one time the fought ended in the God of Destruction winning easily. Yes, Goku is a lot stronger now but there is no guarantee that he can beat Beerus even still.
1. Jiren
Jiren is arguably the strongest mortal fighter Goku has faced so far, with the Universe 11 Pride Trooper easily disposing of for him even with Ultra Instinct. So far Goku has never even gotten close to beating Jiren, however, he will probably overcome his power soon.
If you want more Dragon Ball Super news and spoilers then make sure to like our Facebook page and subscribe to our website below. Also, you can now find us on Apple News, all you have to do is search for Nerds4LifeBlog. 
Something else you might like: