After a huge ratings spike and the introduction of Gotham's own adaption of 'The Killing Joke' story line, Gotham has been officially renewed for a fifth season.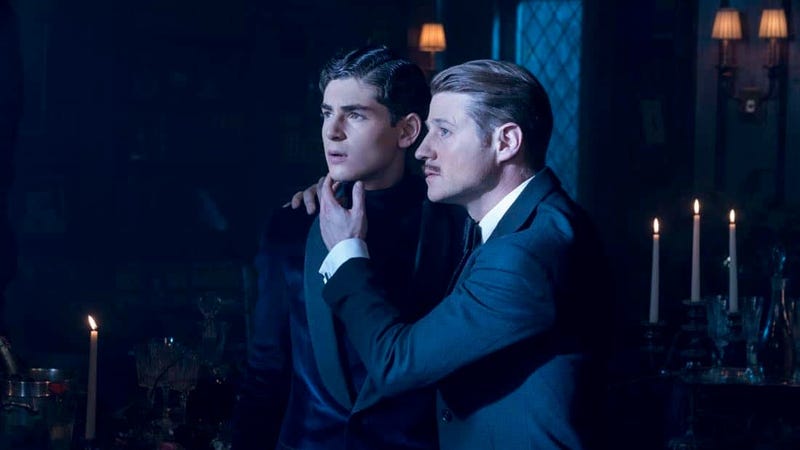 For the past week, broadcasting network FOX has been announcing the shows that have been cancelled and renewed for the upcoming year, which brought both joy and outrage amongst fans across social media. Two of the major sparks of fury amongst TV-watchers was FOX's decision to cancel fan-favourite Brooklyn Nine-Nine (which has since been picked up by NBC) and Lucifer.
This lead fans to spam the network with hashtags such as #savelucifer and #saveb99 to which lead one of the shows (so far) getting picked up by another network.
The same so far has gone for Gotham. Once the fellow comic-book spin-off Lucifer was announced to not continue on FOX with a fourth season, fans feared the worst for the Batman prequel.
Further panic amongst fans surfaced once inside sources announced that Warner bros. favoured the cop comedy-drama Lethal Weapon over Gotham, and that the Batman prequel would only be renewed if Fox were unable to recast the lead for the show.
Lethal Weapon did however, manage to recast their lead actor with Seann William Scott and thus the show was renewed this morning. Gotham fans, as well as cast and crew of the show immediately took to social media and media outlets, promoting the hashtags #savegotham and #renewgotham which has now shown to have effectively gained the attention of Warner bros. and the Fox executives
So, Gotham officially has a fifth and final season planned up, which is said to focus closely on Bruce's transformation into Batman. So what can the last few episodes of this season (with the finale set to air next Thursday) tell us about what may be in store for us in the series finale?
Well, according to show-runner Danny Cannon, Gotham is to undergo a major transformation by the end of season 4's final episode 'No Man's Land'. The episode is a loose adaption of the comic of the same name, which features a "cataclysmic event" that will completely redefine the lives of the characters that we have grown to know and love (or love to hate) over the past four years.
Season 5 will "almost be a reboot" according to Cannon, but rather a "reboot of stories" then a huge reboot overhaul. The diegetic world that is Gotham will be "changed…forever" and the final season will presumably explore how the recurring characters will adapt to this change.
With it's final season now underway, what else might we see before the beloved Batman villains and heroes part ways with viewers forever? Will The Penguin finally wear a monocle and invest in trick umbrellas? Will The Riddler walk around with a gold question mark cane? Will Jim Gordon finally grow a moustache? And what other villains and heroes in the Batman mythos will make its way to our television screens?
Only in season 5 will we find out.
Gotham's final episode airs on FOX in the US this Thursday at 8pm ET and it's 12 episode of season 4 airs in Australia on Monday on FOX 8 at 8:30pm.