So as some of you may have noticed Nerds4LifeBlog likes Dragon Ball like a lot, so I went back and started with Dragon Ball,  back when Goku was a kid and even dumber.
So I'm going to give you a reminder of Dragon Ball , the Emperor Pilaf Saga, which was the first 13 episodes of the series where we met some of our old loved characters.
So the story begins with Goku, a young boy who lives in the mountains just going about his life before meeting Bulma, a young girl who is looking for the 7 Dragon Balls.
Goku has one of these magical orbs that can grant the user any wish, as a gift from his adopted grandfather Gohan.
Bulma obviously wants this and so she persuades Goku to come on an adventure with her for the remaining balls, after sexual temptations clearly failed.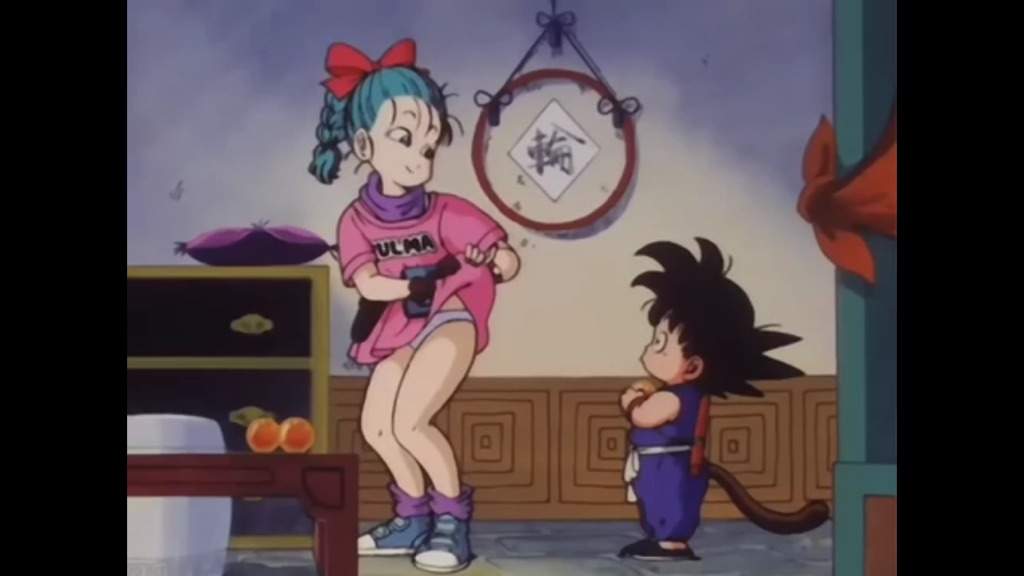 So they set of on there journey to find the rest of the Dragon Balls and after some time they came across some of the more pitiful characters, which are later completely forgotten in Dragon Ball Z.
There's also something I discovered quite quickly, there were a lot of sex jokes in this series compered to Z,  here's a quick example of another Bulma moment.
Along the way they also met up with Yamcha, who is set up as this badass thief that will eventually become Goku's greatest rival, which literally never comes close to happening.
There's also this weird episodes were Goku fights a Bunny who can turn people into carrots, just by contacting with him. This is only one example of the weird characters you bump into during the entire series, which have unusual powers.
This is also where Goku also mets his future wife Chi-Chi and learns the Kamehameha-wave, which takes him a total time of one minute, compared to Master Roshi who took almost 50 years to master it.
They eventually start to look for the last Dragon Ball, which is owned byEmperor Pilaf who is a small little blue man, who wants to rule the world.
He eventually steals the Dragon Ball's from the gang and gets ready for making his wish whilst the future Z-Warriors  try to get them back.
They eventually get captured and put in a room with no way out, but obviously they find a way out via the hero of the entire series, Goku.
In the end Emperor Pilaf's wish was interrupted by Oolong, who ended up wishing for some female underwear, yes out of literally anything in the world that he could have wished for; the talking pig wished for panties.
Pilaf and his crew are not happy but thats when something Goku does something mysterious indeed, and transforms into a gigantic gorilla.
This we later found out was due to the full moon, Saiyan heritage and his tail but at the time it was just shocking.
His friends figure out his tail it his weak spot and cut it off, ending Goku's rampage. After that Bulma explains that the Dragon Ball's after being used are dispersed all over the world and will be petrified for a year.
This mean that Goku had to wait for some time before relocating his grandfathers ball, so in the meantime he returns to Master Roshi, who he met during his search fro the Dragon Balls.
Here he learns martial arts, meets Krillin and pretty much starts developing into the hero he eventually becomes.
Watching this again made me remember how much I loved this series back when I was twelve years old, even getting to the point were I was doing the Kamehameha-wave in public.
The music from it is still iconic to this day and the animation isn't too bad either, overall I loved this series as a kid and watching it again, I realised my feeling towards it hasn't changed.
More Dragon Ball:
How much would it actually cost to feed Goku? Find out here:
https://nerds4lifeblog.com/2017/04/05/how-much-would-it-actually-cost-to-feed-goku/