Here is part two of some of the picks from the latter half of 2016.
Now let's get to it. Its summer here where it seems to be the time of 2nd seasons and spinoffs.
Mob Psycho 100,  another one from the creator of One Punch Man, where it focuses on a middle schooler nicknamed Mob. He is a psychic and works for his fraud of an exorcist boss Raigen.
In the typical style of One Punch Man, there's slapstick and tones of finding your identity with the characters in this show.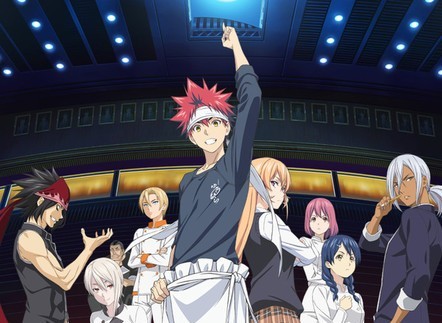 Food Wars the 2nd dish
Continuing off where the 1st season left us, Soma and seven others are in the autumn election where they have to cook to decide who's the best candidate for being on the student council.
So basically the chunin exams, but with more sex and food…
Berserk, 2016
A return to the bloody epic that is Berserk and with the animation of a Kahootz project…
Yes, the style was a bit odd, but they still managed to tell a story with a body count almost being on par with the terminator.
Onto the Fall season and we were plagued by a question that man has discussed for over centuries at the local bar, billiards hall bowling alley; TITS OR ASS!
Yes, I'm talking about the bum and breasts slamming anime that is Keijo!
Basically, they took the food wars approach and added sex to something that's somewhat normal in this case as a weird form of wrestling, where you have to knock your opponent off the arena with your bum or breasts.
Just imagine being the person who was the editor of this
EDITOR-SAN: what the hell is this? Slamming each other with their bums and breasts??? Oh but they're doing it for sport so it's ok.
Now onto Drifters, from the creator of Hellsing, where the main characters are probably used from his Doujin days and recycled from Hellsing.
They are all historical people who have been transported to a new world hence Drifters.
Now for the pinnacle of anime, which as far as I know hasn't been done before,
Yuri On Ice, which is more 'Yaoi' On Ice.
The story follows Yuuri, an ex-figure skater who after a series of events agrees to be coached by his idol, world champion figure skater Victor Nikiforov, as he competes in the Grand Prix.
It is the most anticipated anime of 2016.
So that's it, they are some of the best anime from 2016.
More statues singing. More kid's dying when they are killed. More of the not Sword Art Online sonar.
More tits or ass. More of being cool cooler coolest.
More Attack on Titan.  More I love Emilia.
More foodgasms. More terrible C.G.I. anime.
And more people saying where's my season 2 already!!!