So recently I finished Watch Dogs 2 which during the game, you do a little bit of par-core in and being the young invincible youth that I am, I attempted some of it and ended up hurting my back.
So I started thinking, what are some stupid things from games that you probably shouldn't do in real life?
WARNING DO NOT ATTEMPT TO DO ANY OF THESE'S IN REAL LIFE!!!!
Mario: Punching a brick to get money out
Every R.P.G. ever: picking up food off the ground to make you stronger
Mario Again: Mass Genocide
Pokemon: Sending off your 10 year old kid with a fire breathing lizard or an electric mouse.
God Of War : Just about anything you do in it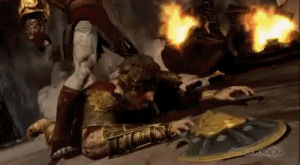 Spiro: Giving all your money to a bear.
Tomb Radar: Picking up priceless artefacts without checking for booby-traps
Assassins Creed: Climb the highest building in the city and then jump off into a bale of hay.
GTA: Car-jacking or in fact anything you do in GTA, especially online….
So turns out there is a Naruto mod for GTA when I started looking up the GTA gifs….
So that wraps up my list of some of the thing we do in games that I wouldn't advise you to do in real life. If you have any-other suggestions please let us know in the comments below.
More Gaming:
Halo 5 is getting another DLC, find out more here:
https://nerds4lifeblog.com/2017/02/05/halo-5-is-getting-a-new-dlc-next-week/